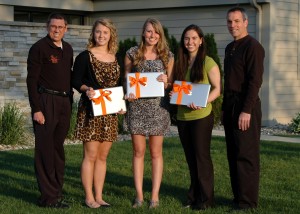 Drs. Michael Koufos and David Albright of Orthodontic Specialists understand the value of a formal education. For nearly 25 years, Drs. Koufos and Albright reward their patients with a local scholarship. Last year, the scholarship was called "Project Orange," which symbolizes serving scholars in our local community. Patients submit a one page essay describing "How braces changed my life."
Last year's recipients each earned an Apple Mac Book laptop along with a $150 Apple gift card. Receiving over 70 entries from 11 different area high school, three winners were selected: Emily Milojkovitch of Munster High School, Ashley Voss of Lake Central High School, and Mallory Belinksy of Highland High School.
As one scholarship recipient wrote, "…smiling can literally change a person's life! It is contagious, a stress reliever, and the most easily recognizable facial expression." Her words express that beautiful smiles reflect much more than just straight teeth.
Patients interested in applying for this year's scholarship can visit www.orthospcs.com/scholarships for more information.
Leave a Reply