Have you heard about our new Learning Curve program? This summer, Drs. Koufos and Albright and our team here at Orthodontic Specialists are excited to announce that we're offering free tutoring to students in our community!
If you're entering Grades 7 through 9, enrolled in a Pre-Algebra or Algebra I class this August, and a patient of record at one of our three locations in Munster, Schererville, or St. John, IN, this is a great opportunity for you to sharpen your skills and get ahead. The lessons will be led by Phil Vasquez, an accomplished MIT graduate and experienced tutor in a variety of subjects, including math, Spanish, and ACT preparation.
Tutoring will take place at the Orthodontic Specialists Office in Munster, Indiana. Registration is on a first come, first served basis, so register today!
Drs. Koufos and Albright are proud to support our community and help shape its future. See you in the classroom!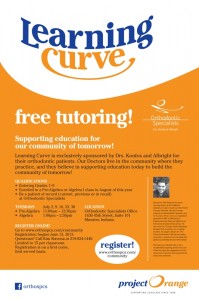 Leave a Reply