September 5th, 2016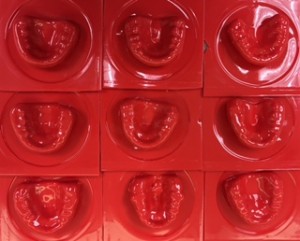 Looks like art!
For over 25 years, Dr. Koufos and staff have volunteered to make custom fitted mouthguards for the Munster football team!  "This is a great effort for everyone, including the coaches, to make sure that the oral safety is a top priority for the Mustang team," Dr. Koufos said.
Each teammate will have a plaster mouth impression made at the football field. Next, we use our in-office dental lab at Orthodontic Specialists' where these red plastic molds are vacuumed sealed and trimmed to make red mouth guards for each team player.  Safety is of the upmost importance for not only football but any contact sport played by  young men and women alike.
Patients in our office will use our state of the art iTero impression technology. This is the most advanced way to make digital impressions without all the messy goop! http://www.orthospcs.com/itero-digital-impression-system
For more information on custom mouthguards, please call your general dentist or certified orthodontists, Drs. Koufos & Albright at Orthodontic Specialists' in Munster and St. John Indiana offices or call us at 219-924-1440 for a free consultation!